Armand Duplantis: Swedish pole vault star wants to 'push barriers of what is possible'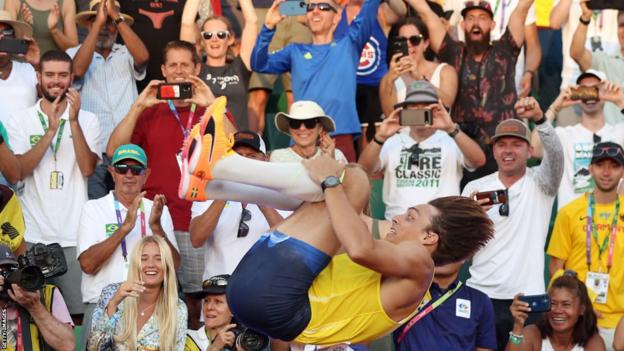 When you have won everything by the age of 22, the only thing really left to do is have fun.
"I don't remember the last time I did a front flip," Duplantis, widely known as 'Mondo', told BBC World Service. "It definitely wasn't a planned celebration."
Crowned Olympic champion at 21, Sweden's pole vault star is the reigning world and European champion both indoors and outdoors.
Since breaking Frenchman Renaud Lavillenie's world record in February 2020 he has gone on to improve his own leading mark a further four times.
The latest, that scarcely believable, front flip-inspiring clearance of 6.21m, delivered world gold in Eugene last summer.
"It was such a special moment in the way that everything came together," Duplantis said. "It was the World Championships and I was the only person on the track. I'm the show in that moment."
He added: "When it happened there was this crazy rush of emotions and you don't know what to do with it.
"You just have to release it somehow and the flip just kind of happened. It would have sucked if I hadn't landed it. Luckily it worked out OK."
It all worked out much better than OK. Duplantis secured gold after his first-time clearance over 6m, with none of his rivals vaulting higher than 5.94m.
With the crowd rising to their feet in expectation, the American-born Swede with the world at his feet cleared a record height, and secured his sweep of major titles.
"It's a really special thing and I can definitely feel it too," Duplantis said, reflecting on his achievement.
"It's not a feeling of motivation going or anything like that. I still have the fire and I want to do more. I feel this weight off my shoulders.
"If I go into years only thinking about medals I'm missing the whole meaning of what I've always been trying to do, which is trying to push myself and push the barriers of what is possible.
"I think heights for me now are the most important thing. I really want to see how high I can go."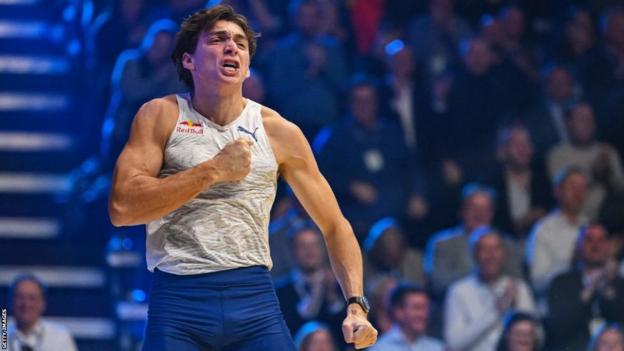 He is off to a promising start in 2023.
Duplantis recorded the highest season-opening vault in history at the 'Mondo Classic' in his home country at the start of February, clearing a world-leading 6.10m before having a crack at the indoor record.
But with time very much on his side, where does it all lead?
The World Championships take place in Budapest in August, while Duplantis believes the next two Olympics – Paris 2024 and Los Angeles 2028 – will not "be a problem".
Height-wise, he has an idea in mind.
His reasoning is both a telling indicator of how he views the sport, and befitting of the uncomplicated joy he provides fans each time he steps out into an arena.
"Maybe I'm not enough of a mathematician to know what is a real limit for me or what is even possible," Duplantis said. "But I know that I can jump higher."
He added: "I would like to jump 6.30 just because it sounds cool. Not because it's a limit, or anything like that."
Next up for the Swedish star is the World Athletics Indoor Tour event in Lievin, France on 15 February.