Interview with the Vampire's Sam Reid on Making Lestat His Own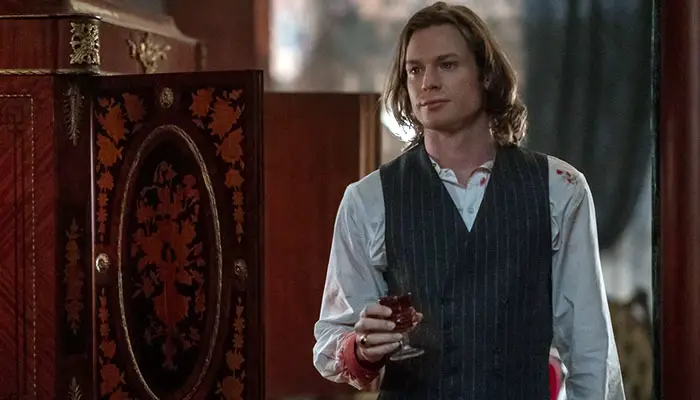 "I think we can't forget that were playing vampires, we're playing monsters and they are exquisitely drawn characters and an absolute gift for any actor to play." – Sam Reid
Anne Rice's iconic novel, Interview With the Vampire, which is killing it (pun intended) in its first season that AMC has already renewed it for a second. Like the book, the story follows the vampire Louis de Pointe du Lac (Jacob Anderson) as he tells journalist Daniel Molloy (Eric Bogosian) about his relationship to the vampire Lestat du Lioncourt (Sam Reid) and teenage vampire Claudia (Bailey Bass). 
Reid and the the cast, including show runner and series creator Rolin Jones, were at San Diego's Comic-Con this summer where they held an interview session to talk about the new series. Here, Reid talks about how he made Lestat his own and the challenge of playing a monster.
How did you research your role to make the character your own?
Sam Reid: I've always liked books myself, so it was pretty extraordinary to read a script of something that I had already adored and then to have the opportunity to play a character that I had admired for years. So, it's very intense to try and approach something that you have so much reverence for to go back to the source material and examine it in a way that you know that you need to bring this into interpretation.
Obviously, I took French lessons, piano lessons, singing and tapping, dog training and lots of things. It was extreme.
But really Roland's writing was so transforming as an actor. He has this extraordinary way to weave the literal words from Anne Rice into the script. You're speaking her actual language as well as having this beautiful individual literary tone to his stuff and it's just so transforming. So, in a way it was like the gift is actually incredibly easy.
As scary as it was, it was like you were just given such a gift with his extraordinary script. I can't wait for people to hear. It's just like this is a moral story more than a me story. Just to bring it back to myself as well.
I think we can't forget that were playing vampires, we're playing monsters and they are exquisitely drawn characters and an absolute gift for any actor to play. To say this dialogue, to get to play iconic characters that exist in so many people's minds. What is it to be that animal and to have it operating within you at all times? To know that even if you are really enjoying this person's conversation, that you could also kill them, and you really want to kind of eat them as well? How long are we gonna be friends for before I kill you? [laughter]Should I go to their concert and listen to them play music or should I just bite them? [laughter]
It's a challenge because we don't really operate like that. And you have to have constant empathy for the sociopath, for the killer, for the monster, for the demon inside you. And that was very challenging, I think as an actor.
Related