Muir digs deep to win record fifth gold at European Indoor Championships | Laura Muir
The greatest challenge of sustained sporting excellence is thriving even when things are not going entirely to plan, when the body is not feeling great or when the rest of the competition throws up a surprise. Throughout her storied career, Laura Muir has exemplified those qualities to the fullest, constantly finding a way to perform at a high level regardless of the challenges before her.
She did so again on Saturday, producing a typically gutsy performance to win a fifth European Indoor gold medal over 1500m and further demonstrate the supreme consistency that has marked her as one of Great Britain's best athletes in recent times.
Having followed through on her status as the firm favourite, Muir is the most decorated British athlete at the European Indoor Championships, breaking her tie of four gold medals with Colin Jackson and Jason Gardener. Muir had previously won two gold medals over 1500m and 3,000m in 2017 and 2019.
"I was quite nervous coming into these champs because I don't think I'm at my absolute best. But I just hoped that with that grit and that determination, I would still be able to come here and win," said Muir to the BBC.
Muir opened the race by sitting at the back of the pack during an unusually fast opening lap as Romania's Claudia Bobocea pushed the pace. "All of my race plans went out of the window when they went out that fast. I was like 'Just pick them off, pick them off'. To be fair to Claudia, she ran so well."
As the pace slowed Muir gradually moved forwards, but her first attempt to break away was immediately defended by Bobocea. No matter, she remained calm. "I knew when I went I would be strong enough," she said.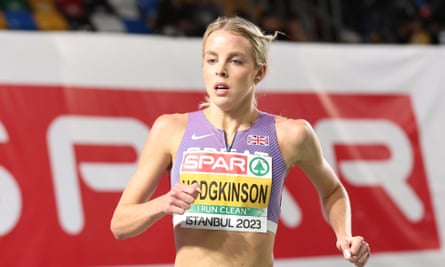 With 1,200 metres gone, just before the final lap, Muir kicked on. Although she immediately created a large gap between herself and the pack, she was unable to fully detach herself from the field.
As she launched herself to the finish line, she had to draw on every last ounce of grit and strength to hold on and win in a time of 4min 3.40sec ahead of Bobocea with Sofia Ennaoui third.
There are greater challenges ahead for Muir as the outdoor season beckons and she continues to tussle for medals with some of the best 1500m runners of all time, but her experience has taught her to fully enjoy all of her successes.
"When you get older you start to appreciate these opportunities. Would I rather be here and not 100% fit or would I rather be at home and watching? I was like, 'Nah, I'd rather be here and give it a go.' I'm just so chuffed with that."
Keely Hodgkinson put herself in position to defend her own European Indoor title. She reached the final with a commanding semi-final run, staying away from the pack by establishing a lead and holding it until the end, finishing with a time of 2:00.06.
Elsewhere, the 400m final was a reminder that the 400m hurdles remains one of the standout outdoor events. Karsten Warholm, the men's 400m hurdle world record-holder and Olympic champion, clinched the gold medal on the flat. He ran an absurdly fast 20.85 opening 200m lap and, despite the inevitable fatigue that followed, hung on until the end.
"It was stupid fast," said Warholm. "I felt the lactic in the last 100 – it hit me like a wall and I just had to fight all the way through. When that lactic hits you, you don't know who's gonna come."
Femke Bol, the world silver medallist and third-fastest woman over 400m hurdles, closed off a remarkable indoor season with a gold medal. After pulling off an unprecedented 400m and 400m hurdle double gold in last year's European championships, Bol demolished the 41-year 400m indoor world record last month with a startling time of 49.26. In Istanbul, the Netherlands athlete produced yet another sub-50 second sprint to triumph with a time of 49.85.