Walmart Closes Stores In 'Woke' Portland And Republicans Have Very Serious, Made-Up Reasons Why
Walmart announced that the company's two remaining stores in the Portland, Oregon, city limits would close at the end of March. Walmart says they're not meeting financial expectations.
"The decision to close these stores was made after a careful review of their overall performance. We consider many factors, including current and projected financial performance, location, population, customer needs, and the proximity of other nearby stores when making these difficult decisions. After we decide to move forward, our focus is on our associates and their transition, which is the case here," a spokesperson with Walmart said.
Prominent out-of-state Republicans have suggested this is just a fancy way of saying "Antifa did it!"
Texas Gov. Greg Abbott crowed, "All Portland Walmart stores to permanently close in late March. This is what happens when cities refuse to enforce the rule of law. It allows the mob to take over. Businesses can't operate in that environment, and people can't live in it."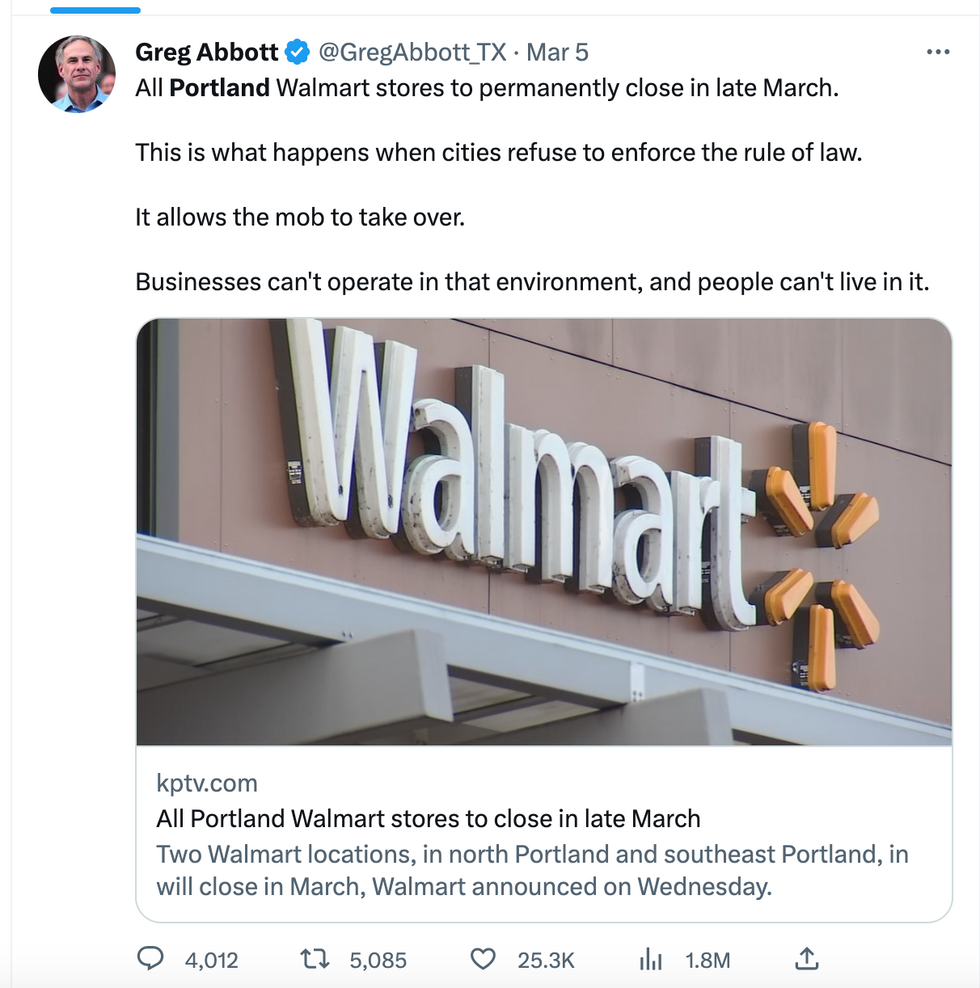 Abbott makes this pronouncement while sharing an article that never at any point supports his conclusion. It's as if he graduated top of his class at the Fox News school of disinformation.
---
Maybe Abbott has Walmart confused with Walgreens, which claimed that "organized shoplifting" was why it closed five stores in San Francisco, where the minorities gather. Turns out that was a slight exaggeration … or a big, fat lie. I haven't worked in corporate America for a while, so I'm not up on the jargon.
"Maybe we cried too much last year," James Kehoe, the company's chief financial officer, said during a Walgreens earnings call with investors.

Mr. Kehoe also said that the company had "probably" spent too much on security measures and that it might have mischaracterized how much theft took place in its stores.
The Daily Mail joined Abbott in the woke smear campaign, declaring in its usual melodramatic fashion, "Walmart will close its final two Portland stores and lay off 600 workers after record-breaking thefts in Democrat-led city."
Walmart is closing underperforming stores across the country, not just in Portland or even Republicans' favorite urban hellscape, Washington DC. Walmart stores will also close in Arkansas, Florida, Illinois, New Mexico, and Wisconsin. Apparently banning critical race theory and persecuting trans kids didn't help turn around sales in Republican-led Arkansas and Florida.
Walmart is a big box retailer that was never very popular in Portland. Not even the wacky NBC sitcom "Superstore" improved its image. (Unfortunately, no actual Walmarts employ the wonderful Lauren Ash.) Residents have actively organized against any new Walmart locations in their neighborhoods, and about 150 Portlanders protested Walmart's Black Friday capitalism fest in 2012.
You don't have to like Walmart to acknowledge, however, that it sells a lot of stuff in one place, which is appealing to many people. Its prices are also cheaper than other stores, for admittedly somewhat nefarious reasons. Liberals in Portland are often guilty of a cultural myopia: Not everyone can afford to shop at their local food co-op or have such options nearby.
The Portland locations that are closing are at 1123 North Hayden Meadows Drive and at 4200 Southeast 82nd Avenue at the Eastport Plaza, and regular shoppers are already expecting to take a financial hit.
"Safeway is the go-to-store if I have to but that's three times the price I would spend here," Amanda Pahl said. "What are we going to do? You got to go further, then you have to spend gas money. Might as well pay for it at Safeway at this point."
As a Portlander, I have a love-hate relationship with Safeway. They are the only grocery that stocks the yogurt our son eats by the gallon, but yesterday, my wife bought a coconut at the Safeway near us and the coconut was filled with mold. That is my Yelp review.
These are the facts: Walmart is closing stores in Portland, but not because of out-of-control crime in an Antifa sanctuary city. Walmart makes close to $500 billion a year in revenue. It's as wealthy as the 12th-largest country. The average Walmart store pulls in $3 million in sales each day. Shoplifting is not driving these stores into the red, even if they were self-producing their own criminal versions of "Supermarket Sweep."
It's more likely that Walmart has determined that these stores aren't profitable enough. So, they're peacing out and leaving 600 people without jobs. It's certainly better for the corporate image to play the victim to a very successful political bogeyman. Rightwing media and Republican officials will even provide some free PR.
[KPTV]
Follow Stephen Robinson on Twitter if it still exists.
Did you know SER has his own YouTube Channel? Well, now you do, so go subscribe right now!
Subscribe to the Wonkette YouTube Channel for nifty video content!
Click the widget to keep your Wonkette ad-free and feisty.